Shared Talk
Event design, Public engagement



Date:

December 2018 (6 weeks)


Team Members:

Sejin Hwang,

Danny Lee, Cathie Peng


My Role:

Co-Lead Event Organizer
---
BACKGROUND
Shared talk is a 6 weeks collaborative project to create an open platform for people to share their stories and experiences to enhance the connection between international and domestic members of community. Through Shared Talk, we want to gradually soften the barrier between international and domestic members of multi-cultural community and encourage members to speak up, and resonate with each other. At the end, we are looking to strengthen the bonding between the community members and make the community as a whole.
---
PROBLEM STATEMENT / DESIGN SOLUTION

Invisible barrier due to cultural difference and perhaps language barrier that make it hard to communicate effectively
Through this event, we want to gradually soften the barrier and encourage members to speak up, and resonate with each other
At the end, we are looking to enhance the connection between the community members and make the community as a whole
---
PROMOTION VIDEO

---
DESIGN JOURNEY

---


BACKGROUND RESEARCH
Our team hypothesized that there is an invisible barrier between international and domestic members of multicultural community. Due to this, we conducted a basic research to understand patterns and relationships in multicultural communities. For research, our sample group was students and staffs of RISD(Rhode Island School of Design).
Demographic
Primary research from online resources. The major goal was to understand the target community, specifically their de
mographics.



Rhode Island School of Design suggests that international students make up about 33.6% of the student body.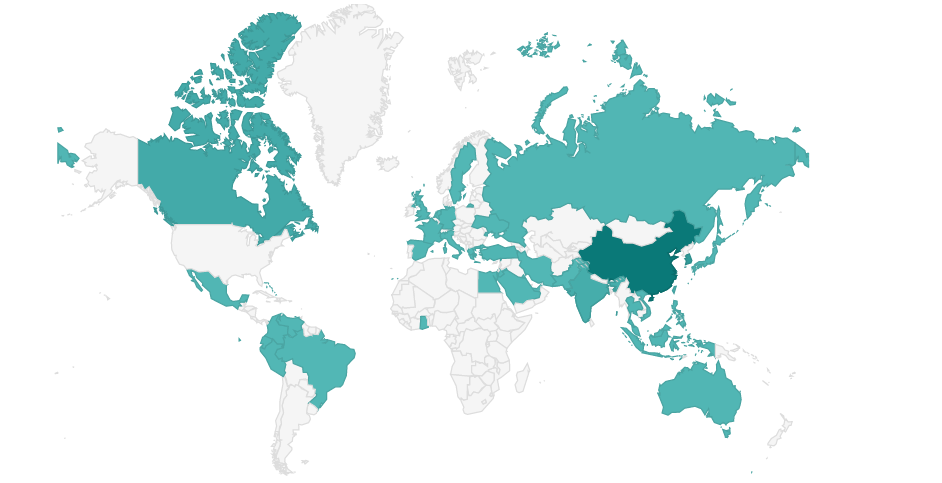 Rhode Island School of Design International Students by Home Country
Exploratory Research
Interviews
we aimed to obain general ideas of people's relationships with the community.
Survey
we wanted to get quantative data as well as insights for conversation topics, common experiences and feeling towards community.
Engag
ement Tool
we designed a public engagement tool to visually analyze the community demographics, and observe how people are grouping and communicating (participatory observation).
User Persona
Based on the research data, we created 2 user personas for each group (international and domestic members of multicultural community) to tackle the problem space with more empathy and intimacy.
Findings
Many members ackowledge that domestic and international members seem to form their own bubbles.
Both international and domestic members wish to exchange thoughts on experiences in the community, but there is a lack of conversation between both under the prejudice and cultural barrier. Therefore, RISD community members wish to share their thoughts and stories through more casual and easier approach in comforable environment.

Due to this, we created three key needs in the problem area.
share
opportunity to hear from each other
activity
easy and fun approach to talk to each other
environment
comfortable, cozy environment needed for people to share personal experiences
---

EVENT DESIGN
With proposing the issues above, we thought of a sharing platform that could gather community members based on various topics. It would be good at congregating thoughts and emotions, providing space for dialogues between communities, and generating more conversations around the area.
Event Structure
Student TED Talks
Student speakers of different background sharing their experiences is a key feature of the event.Additionally, we conducted a survey specifically for speakers. From the survey, we understood our speakers better and discuessed the topics they will be sharing on together.

Activity Ideations
Based on the topics of speakers, we ideated some group activities that could encourage the conversation among the audience.
Event Planning
We divided the preliminary planning works into 4 areas and work on these together.
---

HOST EVENT
Introduction
Briefly introduce the project and invite participants to join ice breaker to generate more comfortable environment to share their thoughts.
Student TED Talk
4 speakers share their personal experiences they had in the community and opens a space for participants to compare and reflect on their own experiences.
Activities
Between each talk, participants has small activities in the booklet that invite people to experience other people's personal experiences in multicultural community througn fun exercise and conversation.
Reflection
At the end of the event, people reflected on their experience and gave feedback
for future events.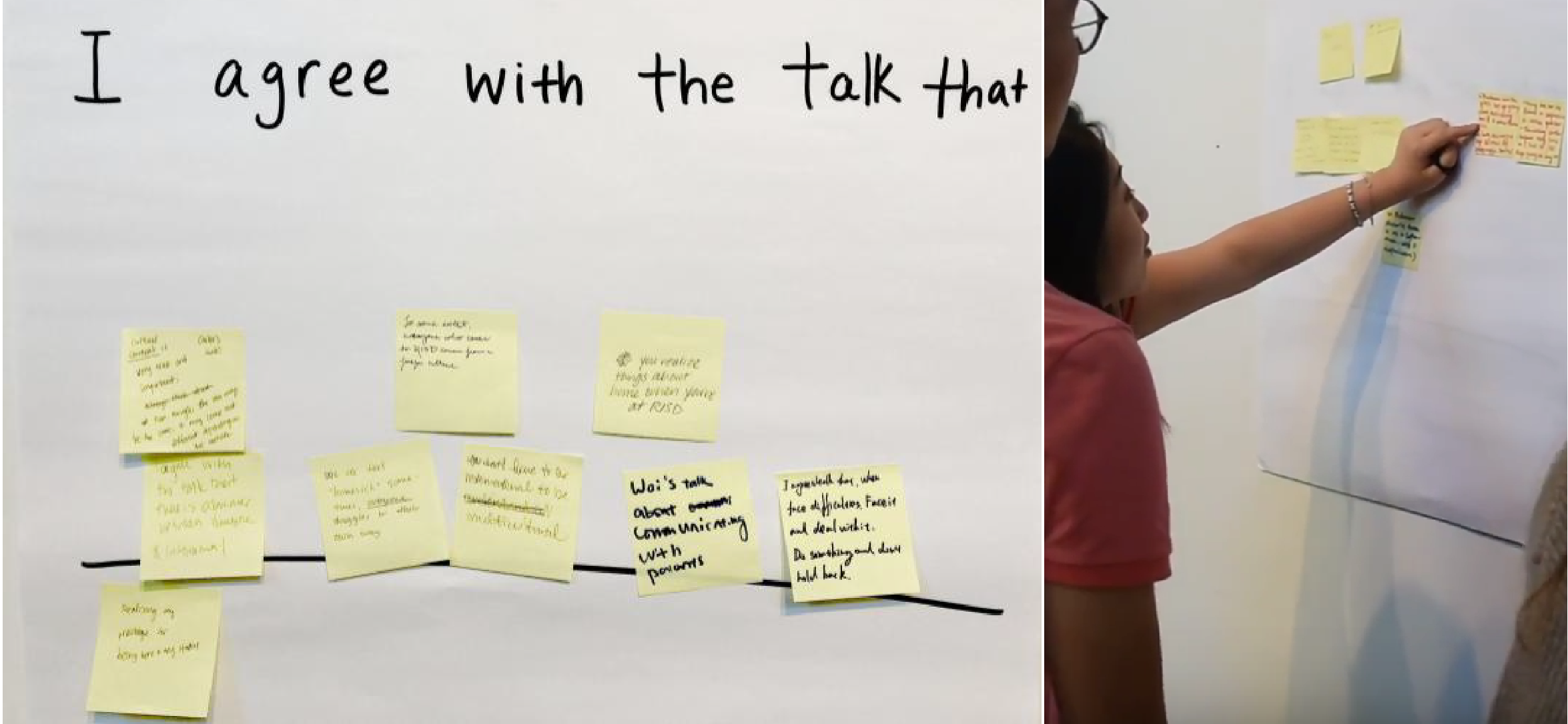 ---

OPEN SOURCE PRODUCT
After user testing with RISD community, our team aimed to create an open source design of Shared Talk to invite all different multicultural communities around us to bring and customize Shared Talk into their community.




Expert Interview
We conducted
an interview with SERC, a social innovation design studio to ask for insights on the future path of shared talk event before creating Shared Talk tool kit.
Questions
1. How do you invite organizers to make their own SERC event? In what occasion? 2. How many resources/examples are effective to put in the manual (Design thinking process, rendering of the event) 3. How do you make sure the organizer is well-prepared to make a SERC happen? What are the specific guidelines and requirements other than the manual?



Tool kit

Provide all ingredients needed for fruitful Shared Talk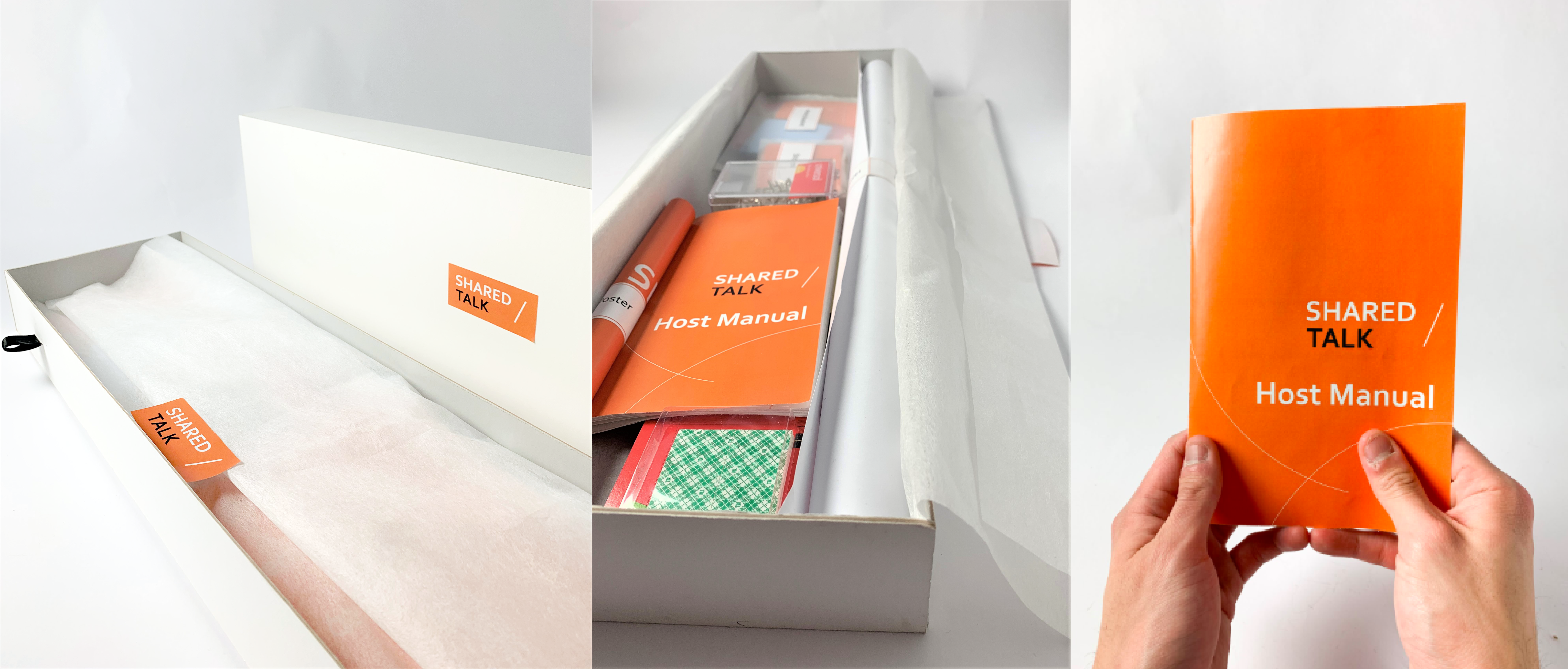 User Testing for Tool Kit
Before launching on the final tool kit, we did user testing to test its usability and interactiveness with users.
Finalized Host Manual
The most significant element of the tool kit.
It guides through the SharedTalk step by step for the host to prepare the Shared Talk efficienctly from space utilization to encouraging communication.